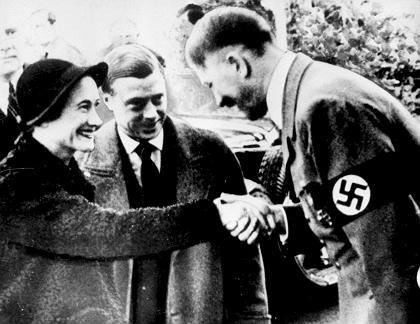 Queen Elizabeth and Prince Philip celebrate their 70th wedding anniversary on November 20, 2017. Elizabeth is not only the longest-reigning and longest-married monarch in British history, but also has been the hardest working. Matthew Dennison of The Telegraph reports that in 2015 alone, at the age of 89, she undertook 341 engagements, including 35 overseas commitments. The press went crazy over the fact that she had no public appearances for almost a month at the end of 2016 because of what Buckingham Palace described as a "persistent cold." In contrast, Queen Victoria was rarely seen in public for the last 40 years of her 63-year reign, continuing to mourn the death of her husband Prince Albert until her own demise.
Queen Elizabeth's life story has been eagerly lapped up on both sides of the pond by viewers of the lavishly-produced Netflix series, The Crown. With its slick opening credits, sumptuous sets, British accents, and emotionally-rousing soundtrack, everything about The Crown echoes the style of Game of Thrones. The gorgeous interiors and exteriors of Buckingham Palace and the other Royal residences outclass anything from Kings Landing or Dorne.
However in this post-truth world, I was troubled by the "Hollywoodizing" of history in the first season of the Netflix show, despite it winning numerous awards, including the 2017 Golden Globe for the best TV drama series.
The most serious flaw in the first season was the portrayal of David Windsor, the former King Edward VIII, as something of a hero, abdicating the throne for something greater—true love. The British Royal Court would not accept his marriage to the twice-divorced Wallis Simpson with no aristocratic background and an American to boot. Exiled from Britain and shunned by his family, his bitter criticism of the other Royals seems somewhat justified. In reality, the man had a long history as a reckless womanizer with a taste for other men's wives and little sense of loyalty to his country. Worse still, he and his wife were anti-semitic Nazi sympathizers. The Windsors visited Hitler in 1937, and as the Independent reported in 2015, documents suggest that they plotted with Der Fuehrer for Edward VIII to regain the throne. In contrast, David's brother Bertie, who became King George VI, was a shy, stammering, diligent man who put duty to his country first and was much loved by his people. If David had been on the throne, the odds of Germany winning WWII would have been greatly increased. Indeed, according to an Express article by Simon Edge from 2013, the Duke passed intelligence in 1940 to the Nazis that their plans for the invasion of France had fallen into Allied hands, which allowed Hitler to alter his strategy and succeed in taking over the country. Six month later, the Duke told the Germans that continued heavy bombing would make England ready for peace. Furthermore, the Duke of Windsor urged President Roosevelt to make peace with Germany. This treasonous behavior gives much more credibility to the acrimony towards both him and Mrs. Simpson felt by David's own mother, and his brother's wife. Otherwise these two women seem like mean-spirited harpies and were portrayed this way in The Crown.
Aspersions are cast upon Prince Philip's suitability as Queen Elizabeth's consort with a single line of dialogue mentioning that his sisters are all married to Nazis—Germans who supported the wrong side in WWII. So why was David Windsor's character sanitized and his Nazi connections completely ignored in the script? The tendency of supposedly non-fiction TV and movie dramas to distort history is problematic because many viewers simply believe that what they see on the screen is the truth. In the old days people complained that history was written by the victors. Now it is written by the scriptwriters, changing things around to ensure that there's enough drama, conflict, scandal and pathos to keep the audience riveted to the screen.
Claire Foy was pitch perfect as the young Queen Elizabeth, and even looked like her. She won a Golden Globe for the role. John Lithgow did an excellent job portraying Winston Churchill's complex character and was awarded an Emmy for his work. I was unconvinced by Matt Smith as Prince Philip. Perhaps I was still seeing him as his character from the British science fiction series, "Dr. Who," but his acting lacked gravitas. George VI was very solidly acted, and I couldn't help but wince as he continued to smoke despite spitting blood and dying from lung cancer.
British newspapers have been abuzz with titbits about the eagerly-awaited second season of The Crown, which premieres worldwide on Friday December 8. It will focus on the Queen's sister, good-time girl Princess Margaret and her tumultuous marriage to photographer and promiscuous party animal Tony Armstrong-Jones. Nothing beats sex and scandal to keep viewers interested.
The self-indulgent, spoiled princess seems to have taken after her uncle, the Duke of Windsor. In contrast, Elizabeth inherited the conscientious character of her father, George VI. It was fortunate for Great Britain that Elizabeth, rather than her younger sister, inherited the throne. Most politicians lose the support of their electorate after only a few years. Throughout her 65-year reign, Elizabeth has devoted her life to serving her country and remains much loved by her people.
I didn't need Google or BBC News to know about Elizabeth's platinum wedding anniversary. Browsing the stalls at a flea market in rural Southwest France this summer, I happened upon a perfectly-preserved special edition of Paris-Presse from November 20, 1947 that commemorated Elizabeth's marriage to Philip. I had considered him to be far more handsome than Matt Smith who played him in The Crown, but the actor is the spitting image of the man on the cover of the newspaper. The photograph doesn't do justice to Prince Philip's fine Greek nose.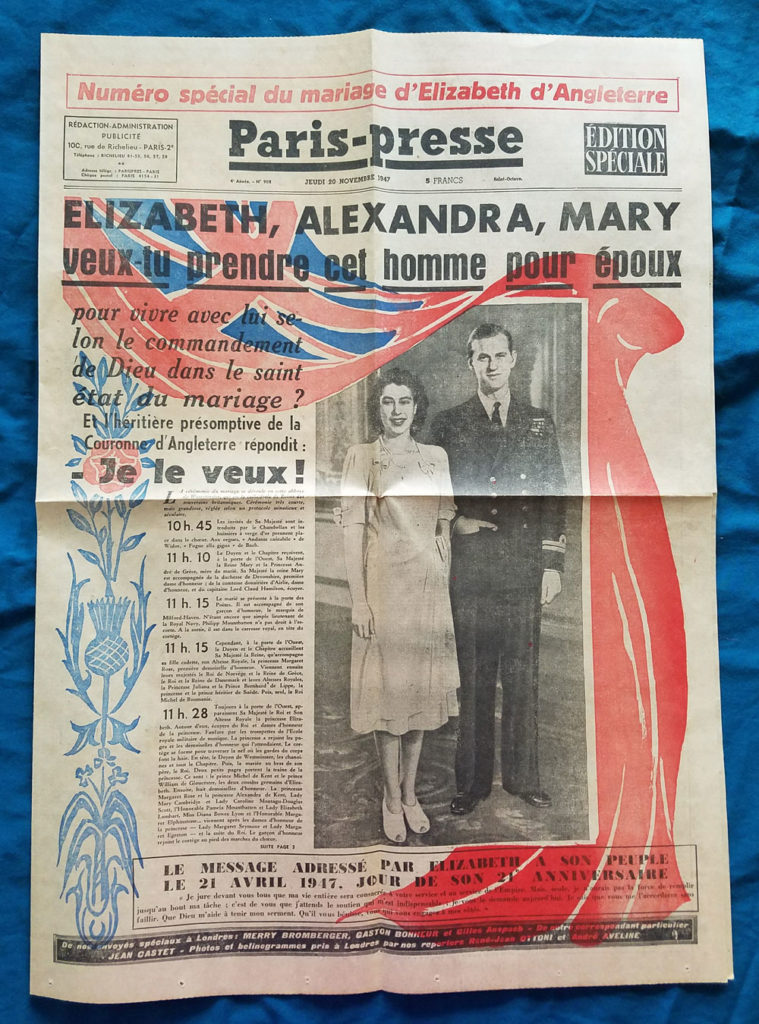 A new book detailing Prince Philip's various affairs has just been published: My Husband and I: The Inside Story of 70 Years of Royal Marriage by Ingrid Seward. It was released close to the couple's platinum anniversary to maximize press coverage. In addition, The Crown's second season will look at on strains within the marriage, most likely including the Prince's philandering. Whatever the truth behind the various allegations about Philip's infidelity, there is no doubt that he was a far superior addition to the Royal Family than the ambitious, pro-Nazi socialite Wallis Simpson could ever have been.