As a Brit living in America, CJ Grace wholeheartedly embraces the best and worst of both cultures. After gaining an honors degree in economics, she became a BBC staff journalist in the UK and later worked for China Radio International in Beijing. Adulterer's Wife: How to Thrive Whether You Stay or Not is her first book. CJ gave the first copy to Arianna Huffington  who invited her to become a Huffington Post contributor.
CJ is currently working on her second book, Hotel Chemo: Learning to Laugh through Breast Cancer and Infidelity.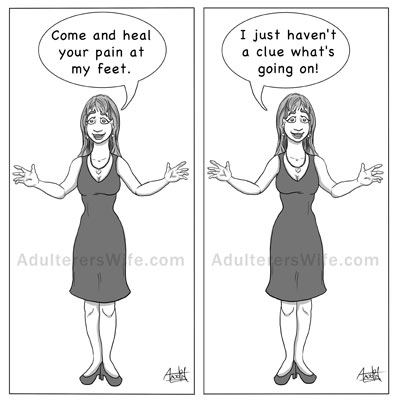 CJ was trained by the BBC as a radio journalist. Like any good journalist, she is skilled at sounding knowledgeable about things she knows nothing about. However, she does have a certain amount of life experience that might be considered relevant to the topics she writes about. Having lived and worked on three continents – in England, China and America – she has come to the conclusion that no one country has a monopoly for nuttiness as regards sex and relationships. It's just that in each place the characteristics of that nuttiness are slightly different.
It's not normally a good idea to discuss politics or religion as these are subjects that people sometimes get worked up about. That being said, just to give you some clues as to CJ's confused, indecisive and inconsistent personality, it is worth noting that she describes herself as a Jew-Bu-Tao agnostic with a Protestant Ethic upbringing, and a libertarian liberal conservative, or perhaps as a libertarian conservative liberal. However, she has absolutely no Tea Party leanings, except if it involves actually drinking the stuff – Tetley Extra Strong
blend, of course, and none of those weird herbal concoctions.
Cartoon Artwork by Aaron Austin
Cartoon Concepts by CJ Grace