Adulterer's Wife: How to Thrive
Whether You Stay or Not
Available on Amazon in print and Kindle format. Buy now.
"Adulterer's Wife is very clever and well-written. Such a good idea too."
—Celia Walden, US Editor-at-Large, Daily Telegraph.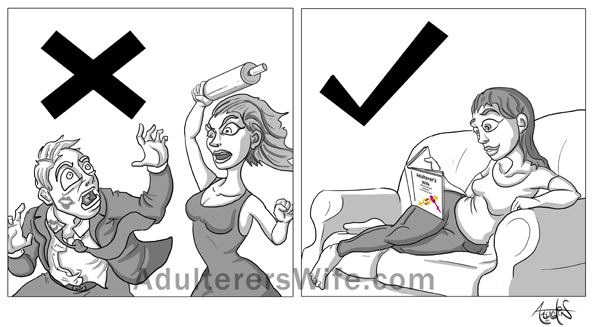 Adulterer's Wife enables wives to find the silver lining in a husband's adultery. It helps women regain control of their lives and shows them ways to obtain more happiness and freedom than they had before they knew about their partner's cheating. 
The book is specifically geared towards the wives of adulterers rather than for their philandering partners. In the past, it was common for women to keep silent about physical and emotional abuse from their husbands. Instead of marital infidelity being an embarrassing secret to keep hidden, CJ hopes that this book will help to bring the subject more out into the open, so that women no longer suffer in silence but instead are able to take charge of their circumstances.
Perhaps some men will take a strong dislike to what CJ has written in her book or in her blogs, preferring to keep their females in "Stepford Wife" mode rather than allowing them to take care of their own interests and gain independence. As far as adultery is concerned, there is somewhat of an "Old Boys Club" around the subject, with men covering for each other to hide the activity from the wives, and where new conquests may even be seen as a badge of honor.
Rather than playing the blame game, CJ has tried to offer wives as pragmatic an approach as possible on how to deal with adultery. The aim is to provide some tools to women who are deciding whether or not to stay with unfaithful husbands, so that they can truly thrive rather than be crushed by the experience.
Want to find out more about Adulterer's Wife? See the Table of Contents and read an extract from the Introduction.
Hotel Chemo: Learning to Laugh
through Breast Cancer and Infidelity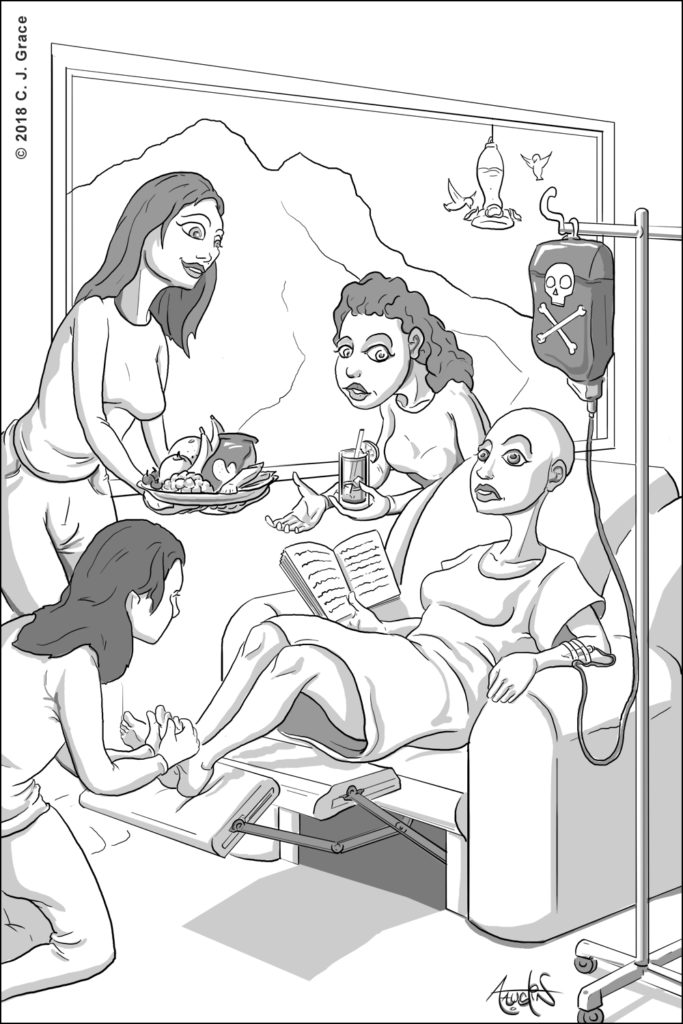 CJ is currently completing her second book, part memoir, part self-help—Hotel Chemo: Learning to Laugh through Breast Cancer and Infidelity. With an eye for absurdity and black humor, she takes a look at cancer etiquette, chemo, radiation, hair loss, alternative therapy, sex and how to deal with an unfaithful partner.
Recovering from her husband's infidelity, CJ had just separated and started dating when diagnosed with breast cancer—for the second time. One in every eight women in America gets hit by the bombshell of that diagnosis. Helped by her defective BRCA gene, CJ had won the lottery twice. But she had a strategy to fight the assault on her body, mind, and emotions while she was chemoed and nuked. She refused to be a hostage to fear of the grim reaper and hung on to her sarcastic Brit sense of humor, despite living in California.
Drawing on research skills from her BBC-journalist background, CJ became her own healthcare advocate. She investigated treatment options, debating mastectomies versus lumpectomies and conventional versus alternative therapies. She spoke to numerous patients, caregivers and healthcare providers who shared their cancer stories with her. They would even discuss "taboo" subjects such as sex, celibacy and end-of-life planning.
Although chemo and radiation hit CJ like a Star Trek phaser gun, she fought negative emotions and treatment side effects with laughter and dark chocolate, and by writing Hotel Chemo. Wearing "Marilyn," her movie-star wig, she coped with chemo brain, constipation, and eyelash envy. She explored alternative therapy in Germany, with hilarious translation malfunctions. She lambasted positive-thinking tyrants and others who insisted she must follow their advice or face death. They inspired CJ to write about cancer etiquette to show caregivers, relatives and friends better ways to talk to and help cancer patients.
Currently standing strong but conscious of her mortality, CJ has completed her will and described how she wants to be treated when she is dying. Requesting a eulogy inspired by the Monty Python "Dead Parrot Sketch," she plans a bargain-basement funeral—cremation with the ashes in a plastic box, and a jolly good party afterwards.
Take a sneak peek at the Table of Contents and the Introduction.
Cartoon Artwork by Aaron Austin
Cartoon Concepts by CJ Grace