Adulterer's Wife: How to Thrive Whether You Stay or Not
Available on Amazon in print and Kindle format. Buy now.
"Adulterer's Wife is very clever and well-written. Such a good idea too."
—Celia Walden, US Editor-at-Large, Daily Telegraph.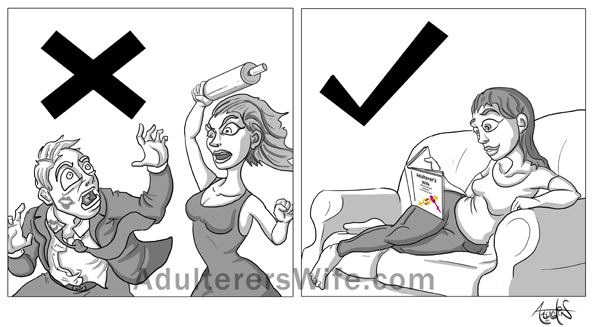 Adulterer's Wife enables wives to find the silver lining in a husband's adultery. It helps women regain control of their lives and shows them ways to obtain more happiness and freedom than they had before they knew about their partner's cheating. 
The book is specifically geared towards the wives of adulterers rather than for their philandering partners. In the past, it was common for women to keep silent about physical and emotional abuse from their husbands. Instead of marital infidelity being an embarrassing secret to keep hidden, CJ hopes that this book will help to bring the subject more out into the open, so that women no longer suffer in silence but instead are able to take charge of their circumstances.
Fighting the Old Boy's Club
Perhaps some men will take a strong dislike to what CJ has written in her book or in her blogs, preferring to keep their females in "Stepford Wife" mode rather than allowing them to take care of their own interests and gain independence. As far as adultery is concerned, there is somewhat of an "Old Boys Club" around the subject, with men covering for each other to hide the activity from the wives, and where new conquests may even be seen as a badge of honor.
Pragmatic
Rather than playing the blame game, CJ has tried to offer wives as pragmatic an approach as possible on how to deal with adultery. The aim is to provide some tools to women who are deciding whether or not to stay with unfaithful husbands, so that they can truly thrive rather than be crushed by the experience.
Want to find out more about Adulterer's Wife? See the Table of Contents and read an extract from the Introduction.
Hotel Chemo: Laugh Your Way through Breast Cancer and Infidelity
CJ is currently writing her second book, part memoir, part self-help, entitled Hotel Chemo: Laugh Your Way through Breast Cancer and Infidelity. With an eye for absurdity and black humor, she takes a look at cancer etiquette, chemo, radiation, hair loss, alternative therapy, sex and how to deal with an unfaithful partner. Take a sneak peek at the Table of Contents and the Introduction.
Cartoon Artwork by Aaron Austin
Cartoon Concepts by CJ Grace